Pressure Washing in Gray Court SC
Pressure washing is one of the fastest and most effective ways to remove dirt, dust and grime from a variety of surfaces. When a surface is pressure washed, you can instantly take years off of the surface, making it look as close to new as possible. Pressure washing not only makes your surfaces look great, but it removes elements that can shorten the lifespan of these surfaces, helping to protect the investment you have made in them.
Pressure Washing
in Gray Court SC
Pressure washing can remove a lot of elements from many different surfaces, including dirt, dust, pollen, algae and moss. Many people think that their exterior surfaces, such as siding, roofing or concrete, simply look old and run down due to age or sun exposure, when in many cases, it is all of these elements compounding on top of the surfaces day in and day out. As these elements sit in the sun, they become baked into the surface, making them hard to remove. Pressure washers can lift away years worth of grime and residue, restoring your surfaces. Here at Foothills Exterior Cleaning Services, we want our customers to understand the importance of pressure washing. It helps boost curb appeal, helps extend the life of outdoor surfaces, and can increase the value of your property. We are here to help you get your exterior surfaces as clean as possible.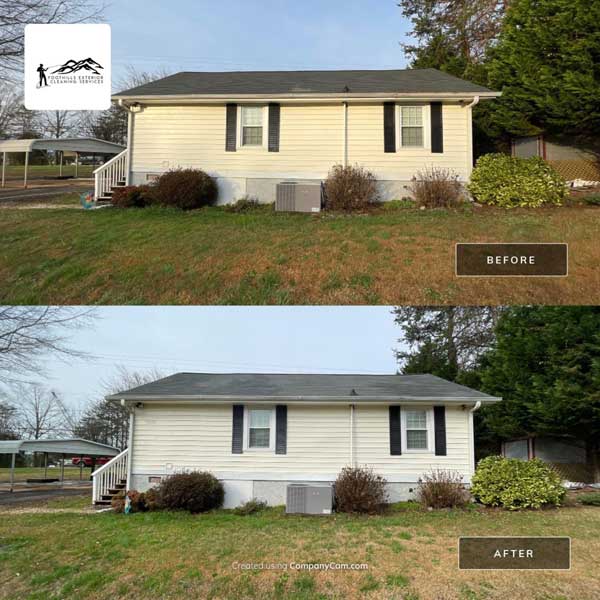 Expert Pressure Washing Services We Offer
Foothills Exterior Cleaning Services strives to offer our customers all of the pressure washing services they may need in one place. This ensures you only have to hire one company to get all of your exterior surfaces clean. We are proud to offer both commercial and residential pressure washing services. Our team is fully trained to properly clean and pressure wash all types of exterior surfaces, removing contaminants and stubborn stains. Some of the services that we offer include:
Concrete cleaning
Graffiti removal
Gutter cleaning
Playground sanitizing
Pool & wood deck cleaning
Rust removal
Roof cleaning
Solar panel cleaning
Window cleaning
Commercial Cleaning Services
Residential properties are not the only properties that are in need of exterior cleaning services. Commercial property owners can also benefit from commercial pressure washing. We offer our commercial customers all of the services listed above, as well as building cleaning services. If you have a unique surface that you need cleaned, reach out to us. Chances are, we can help you with our professional cleaning services.
Soft Pressure Washing Services Versus Traditional Pressure Washing
As you look to hire a pressure washing service, you may hear the term soft washing. Many people wonder what this is, and how it compares to traditional pressure washing services. Soft pressure washing services are very similar to regular services, only the amount of pressure sprayed on the surface is decreased. This is typically done when cleaning roofs or siding. It may also be used if a surface is older or in poor condition. Applying too much pressure to delicate or older surfaces can cause damage, so for these surfaces, soft pressure washing makes more sense. One of our professionals can inspect your surfaces and determine whether soft pressure washing or traditional pressure washing is the better option for you.
Ready to Hire a Pressure Washing Company in Gray Court, South Carolina? Reach Out to Foothills Exterior Cleaning Services
When you are in need of professional cleaning, Foothills Exterior Cleaning Services is here to help you. We are a local, family-owned company that services the Gray Court, South Carolina area. We offer exceptional customer service and have a 100 percent satisfaction guarantee. Our employees have years of experience getting all of your residential and commercial surfaces clean, and can recommend the right cleaning treatments to you. Reach out to us to schedule an appointment for residential pressure washing or commercial pressure washing services.