Our Home  & Roof Soft Washing Service
Why Get a Home & Roof Soft Wash Done?

Soft Wash offers a Clean Look

Healthier for Your Home

Improves Curb Appeal

Better for First Impressions

Increases the Lifespan of your Exteriors

Greater Satisfaction Having a Cleaned Home or Business
Why Do You Need a Home or Business Siding or Roof Soft Wash?
There are many advantages to getting the exteriors of your home or business a soft wash. Everyone loves a cleaner-looking home or business. These clean looks are way more attractive than a dingy, algae-covered home or business. This leads to the next reason for getting the cleaning done. A cleaner home or business increases curb appeal for the structure. Maybe you run a business. What is the first thing your customer sees when they get out of the car? The outside of the business. That first impression can be what makes or breaks the customer from continuing service with your company.
Next, the exterior of your home takes a beating all year long from mother nature. Do what you can control, and keep the exteriors of your home cleaned, to aid in the lifespan of your siding or roof. Speaking of mother nature, keeping your siding and roof free from mold, rust, mildew, algae, and other organic growth is just plain healthier for all parts involved. And lastly, there is a higher level of satisfaction as a home or business owner who pulls up to their property every day and sees a clean home versus having to pull up to a dirty, dingy-colored home covered in organic growth.
Contact us today for a FREE quote and get ahead of the ball! Also, follow us on Facebook and Google to keep up with all of our latest projects we have worked on as well as specials and promotions!
Example of Organic Matter Stains on a Roof

There are few feelings better than coming home to a clean and shining house, and at Foothills Exterior Cleaning Services, we can help you achieve this goal with our exclusive house washing services. We specialize in soft wash techniques that gently and effectively clean your entire house – without harming the delicate exterior sidings. As a result, your home will look clean, fresh, and inviting once again, dramatically improving its visual appeal.
We proudly offer our roof-washing services in the following cities:
And the surrounding areas!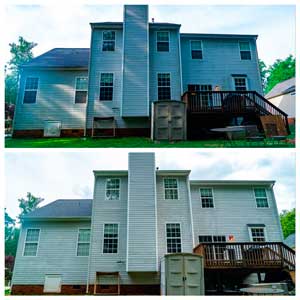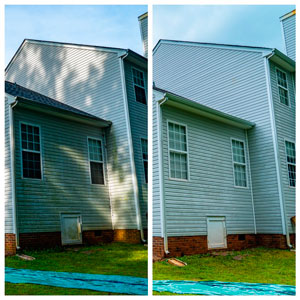 We have quickly built a reputation as a trusted source for house washing services in Fountain Inn and the surrounding areas. Our fully licensed and insured technicians use environmentally safe, highly effective cleaning detergents that are specially designed to remove the dirt and grime from your home.
Unlike high-power pressure washing, which can inadvertently damage your house, our soft wash methods are gentle enough to use on your entire home – getting the job done without harming your property.
If you are searching for great house washing services near you, contact us today at Foothills Exterior Cleaning Services to learn how we can transform your home and make it shine again.